Garage services, Tyres, Exhausts, Electrics, Diagnostics
Clutches, Cambelts, Brakes , MOTs, Tracking, Suspension
DMVS
ESSEX MOT CENTRE
Telephone 01375 678822
Today's vehicles are now equipped with a vast array of computers to maximise performance, driver comfort and to minimise harmful exhaust emissions. A small fault in any one of these systems causes the dash board to light up, warning of impending doom ! Diagnosing these problems accurately, without the right equipment can be costly, fruitless and time consuming.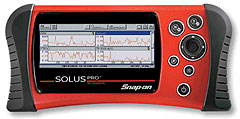 At DMVS we use the very latest in computer diagnostics, including the state of the art

SOLUS PRO. This is a dedicated vehicle computer analysing/programming unit which is constantly updated with the latest software, allowing us to pin point problems within the complex computer driven systems now employed in the modern motor vehicle. This includes ENGINE MANAGEMENT, ABS, TRACTION CONTROL, AIR BAGS, IMMOBILISER, CLIMATE CONTROL, ACTIVE DAMPING......... the list goes on and on. Our staff are fully trained and experienced in dealing with these problems on a daily basis.
DMVS 69/71, VICTORIA ROAD, STANFORD LE HOPE, ESSEX ,SS17 0HZ